Race report
Ironman #12 and definitely the most eventful one to date… front brake failure, crash on the bike, 5 min drafting penalty, rolling my ankle on the run, full leg cramps (of the stopping you in your tracks variety)…. but managed to hang on for second in my AG.
I had never planned on doing IM Bolton, so only entered 4 weeks earlier after deciding that there is too much going on in my life later in the year, so I best get in a big race while I can.
We loaded up the van Friday night and headed to Bolton early Saturday morning for the usual registration stuff, sorted out the run bag to drop at T2 (Bolton has a split transition) and then headed to T1 to drop the bike and check out the lake for the swim.
As I was sorting out my bike bag my race helmet dropped on the floor, breaking the lens. Great! Not… but no dramas, I will just wear my shades instead. Here was me thinking that I would hopefully have a smooth race the following day.
Sensing my pre-race nerves (I call it being in the zone) my wife decided to book a hotel rather than 'roughing' it in the van for the night – a good choice (after all) as I managed to relax for the rest of the day and get a pretty good sleep in until the alarm went off at 3.30 am (the joys of IM race mornings). Having my usual breakfast, we set off for the swim start with plenty of time to spare. A bit of a walk from the road/car park, I got to T1, did the usual bike check, pumped my tires up, put my bottles and Garmin on the bike. All sorted and ready to roll.
The SWIM
This was my first rolling swim start for an IM so I was a bit uncertain on where to place myself but going off my previous swim times I decided to start with the 55-minute group. Before I knew it, the hooter went off and we were a go. A short jog down the pontoon before hitting the water…..who would have thought an Ironman swim start could be so civilized! It was time to find a nice pair of feet for a tow round but unfortunately no joy as the guys moving at my pace seemed to be heading way right. So I made the call to solo it and swim my own line. Knowing my eyesight, probably the wrong line! The two lap swim (with Aussie exit inbetween) seemed to pass quite quickly which is always a bonus. I ended up with a 58.45 and 28th out of the water, my slowest wetsuit swim to date. Here's hoping it was a bit long!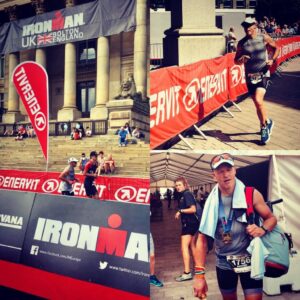 The BIKE
Into T1 with no dramas, now where did I hang my bike bag again! Damn it, I was certain it was on the left side. 30 secs later I found it on the right side. Shoes on, helmet on, glasses on, time to get on my bike and ride. Jumping on my bike I noticed my front brake lever was open – odd, as it physically needs to be opened (it's a Magura hydraulic system) – but I didn't give it any more thoughts as it closes as soon as you apply pressure to the brake lever. My plan for the bike was to ride sensibly for the first lap and then push on for the second lap if I was feeling good.
After the first climb we had our first real technical descent and you guessed it – my front brake felt a bit spongy. Still, I pushed on – descending is one aspect of cycling I really enjoy (must come from my ski-bum days many moons ago…) – and not long after Lucy Gossage, the lead woman, came past with another chap in tow. Drafting rules and all in mind, I sat up to let the gap move out to a good 10 meters but I decided to follow Lucy for a while as the PRO women pace the bike so much better than your typical AG men…something to do with male egos I guess… and of course, I pretty much got shown the blue card straight away. A 5-minute drafting penalty! Having done a British Triathlon refereeing course many years ago I knew there was no point in arguing the point so I decided to make the conscious effort to let it go. I was not a happy camper but on with the race.
I carried on with the pace set by Lucy who was riding super strong around the course. By the time we started the second lap my front brake had completely gone. Knowing the kind of technical descents about to come up again anything else but ideal and on a few occasions I honestly thought I was not going to stop. Super steep descents followed by sharp turns at the bottom made for a few 'shit your pants' moments (sorry the language), but I managed to find a good rhythm, making sure I kept my distance to Lucy and kept on top of my nutrition.
Feeling pretty good it was time to push on a bit on the run back into Bolton. I could see a few guys up the road so decided to see if I could catch them. I soon caught the first guy but didn't anticipate the fast descent leading into a tight left hander. Realising just how tight it was far too late, I locked the back up and slid straight across the road. Thankfully I managed to get my foot out and control the slide as best I could but sadly there was not enough road left and I went straight on into a bush! Lucky for me, only a dropped chain and a few scratches and I was good to go again
With the extra adrenaline rushing through my body at that point, I was feeling really good, so I hammered it back to T2 as fast as I could. For those that don't know the bike was 17 miles short due to the local wildfires. I rode a 4:30 and clocked the 23rd fastest time (NP was 265).
The RUN – Shuffle
As I entered T2 I completely missed the penalty box thinking it was at the exit of T2 not the start – more wasted time! In total, my T2  time was 9 minutes; a new record for me! Anyway out onto the run and I was still feeling quite good. That's pretty unusual for me as my running legs left me years ago! So the plan for the run was to keep it steady and hang on for as long as I could.
On the first lap I was running with Marc Laithwaite, last year's – and as it turned out this year's – AG winner and local multi-sport legend. Thanks to his many supporters along the route he was constantly getting splits on where we were. Turns out we were 2nd and 3rd with a Belgie 15 mins up the road. Those Belgies certainly can ride a bike! I was still feeling pretty good on the run and started pulling away from Marc. Sadly it was short lived as I went over on my ankle just before we finished the first lap. At that moment I honestly thought my day was done. I hobbled to the next aid station, which was only a few 100 meters away, where I poured loads of cold water on it and quickly swallowed 2 Ibuprofen. I figured I'll see what happens and started jogging again. Surprisingly it started to feel a bit better after a few minutes. A few more kilometers to find my rhythm and for the pain killers to kick in and I was back in the game!
The second lap went pretty well and I maintained my pace. Out onto the 3rd lap and I could feel the twinges you get when cramp is about to rear its ugly head. Confident that my trusted cramp stop (eleteTM water) would do the trick, I quickly took a few swigs – oh how wrong was I. For the next 10k I was getting hit with hamstring cramps which stopped me in my tracks several times. It was a real balancing act between keeping the cramps at bay and a pace at something resembling running.
Learning that I was now in 2nd place with Marc well up the road, the Belgie pulling the plug, and a slender lead over the 3rd guy in our AG, I really had to push on the best I could for the last 5k to make sure of second. And I did – finishing with a 3:39 marathon, 9:22 total and 46th overall.
I can't quite believe how the race panned out, so many ups and downs during the race, it was comedy really. But I am proud of hanging tough and getting to the finish line. And the bonus for all that is a trip to Kona and – hopefully – a nice smooth race.
Thanks for reading,
Coach Damo